I make conferences, summits, & corporate events educational & fun.
As a professional speaker my goal for every event, in person or virtual, is to bring your audience actionable takeaways while keeping it fun and engaging.
My #1 purpose is to entertain your audience, having them leave your event feeling empowered, ready to take action, and happy they joined.
As a web designer and business efficiency coach who runs multiple businesses, Yvonne has over 10 years of experience organizing, strengthening, and streamlining businesses into profitability and success.
She was born and raised in Germany where she caught the entrepreneurial bug early on, working in her parents' business and owning her own pub by the tender age of 22.
Yvonne left the safety net and security she had in Germany to pursue her own dreams. Since moving to the US in 2007, Yvonne's goal has been to help empower entrepreneurs so they can successfully run a sustainable business while also enjoying life.
Her own life-changing challenge came in 2014, when she lost her husband to cancer. Yvonne was determined to resume her passion of building "bulletproof businesses" that can withstand anything.
How to Streamline Processes & Scale Your Dreams
Entrepreneurship is a funny thing. You find your passion and even find a way to make a great living doing it. And suddenly you don't have time for yourself anymore – Workaholics unite.
This talk is for the digital entrepreneur tired of hustling day in and day out – ready to use technology to be more efficient, grow and work well with your team.
You probably think you don't have the time to do all the things and implement all the systems… Let me tell you, life is too short for you not to!
Let's make you the Hero in your business and for your clients.
It is assumed you have some business knowledge, are running a business, have a working brain, and a sense of humor.
Your attendees will leave knowing:
Things I'm passionate about
If you are looking for a panelist or podcast guest, I'd love to inspire your audience with not only my lessons learned but also give them solutions they can implement TODAY.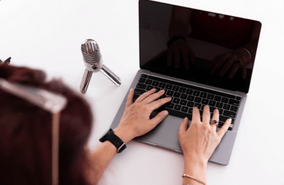 How can you get the most out of the time you have? Get the most out of the assets you create? The marketing you do? Let me show you how to streamlined & optimized processes and workflows.
Tools to make Business easier
A polished and aligned tool stack will lift the confusion off you and your team that comes with working with multiple tools. Learn how tools can support your work and how to connect them to eliminate extra work.
Brain Hacking - How to be our best self
The human aspect & influence is huge in our businesses. Let's talk about how to get your team on board with your goals and make them excited to work for and with you – resulting in you having a super productive team.
Yvi's S.O.A.R.R. Framework
that has allowed Yvi's clients to scale their businesses effortlessly
When implementing the S.O.A.R.R. framework gives structure to scaling and stress proving businesses – allowing YOU to scale knowing that potential weak points have already been determined and eliminated.
Gone are the stress days of the "entrepreneurial rollercoaster"
These are just a few of Yvonne's past appearances.


Social Media Day Wichita
Keynote Speaker
Agorapulse Agency Summit
Keynote Speaker
Midwest Digital Marketing Conference
Breakout Session
LevelUp by ClickUp
Speaker & Panelist
Yvonne Heimann captivated the audience with her expertise on streamlining processes and time management.
Her insights were invaluable for those in attendance, including myself. Yvonne Heiman shared how to simplify complicated procedures that often lead us down a rabbit hole of chaos at the Agency Summit I hosted in June! She is an expert on business strategy because she can offer insight into what it takes to manage teams through complex projects without losing focus or momentum.
I would strongly recommend Yvonne for your next event or training! 
Head of Strategic Partnerships at Agorapulse
"Life is too short to do the things you want to do tomorrow
– and to take yourself too serious 😉 "