DISCLAIMER: As you probably already know, this page may contain affiliate links. If you click on one of the product links, I'll receive a small commission. Thanks!
Are you looking for the best way to streamline and document your business processes? SOPs (Standard Operating Procedures) and Wikis are two of the most popular solutions. But did you know that SOPs and Wikis are not interchangeable?
If not, you're probably wondering how you can differentiate between SOPs and Wikis to determine which is best for your business. 
Don't worry. In this blog post, we'll explore what makes SOPs different from Wikis, and provide tips on how to effectively use each option in your business. More importantly, I'm going to share with you how you can effectively use both to empower both your existing and new team members so they can quickly learn, thrive and succeed in their roles.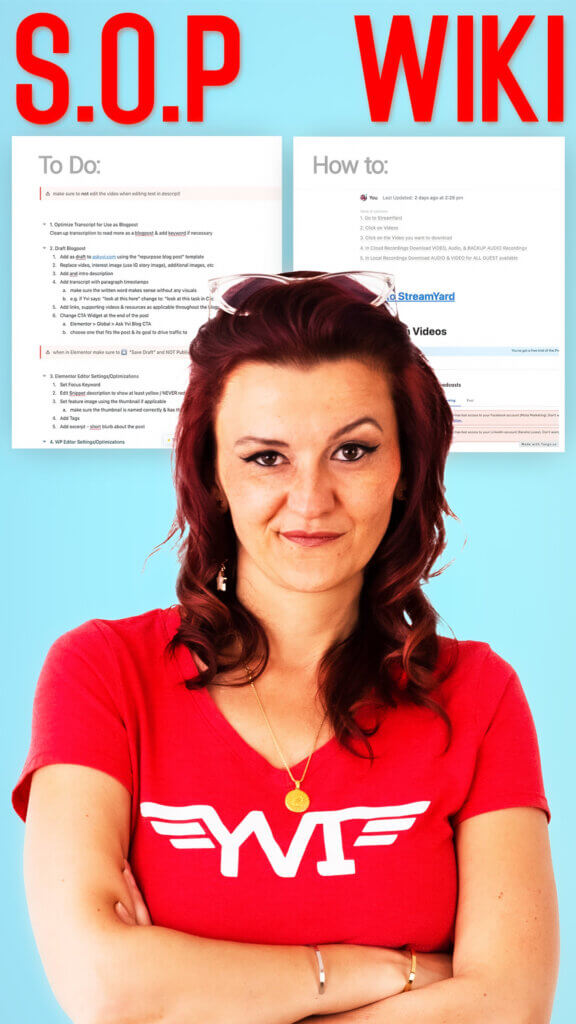 By the end of this post, you'll understand why SOPs and Wikis are different, but how they can also complement each other to help your team work faster and smarter! 
Ready to dive in? Let's get started!
[00:00:00] Yvonne Heimann: One of the big questions is always, Standard Operating Procedure, Wiki, what do I need for my business? What is the difference between these? How do I set them up? How do I structure them? Take a breath. I'm gonna answer all of your questions. How Standard Operating Procedures, Wikis in your business work, how to set them up, how to structure them.
[00:00:19] Yvonne Heimann: We're gonna talk about all of that today. So we've been talking a lot about building up your library, talking about Standard Operating Procedures or SOPs. We've been talking about Wikis in your business. Yes. I know. It's a lot of stuff and it's a lot of trying to wrap your head around it and trying to get into the habit of working on your business, not just in your business and getting all of these documents done and the collections and the sub-documents.
Standard Operating Procedures vs Wikis
[00:00:49] Yvonne Heimann: Today, I want to focus on the differentiation between Standard Operating Procedure and Wiki in your business. Now, when I say Standard [00:01:00] Operating Procedure, that is your what? That is your, I need to do this, to get this, to do that, to do that, to then finish that whole workflow. Whereas your Wiki is the how. Now, why are we making this differentiation in between it?
[00:01:17] Yvonne Heimann: If you've been around and you've seen a couple videos in, in my playlist of how to get started with systemizing your business, you already seen that my Standard Operating Procedures, as you can see right here on the screen share, barely ever has any images in it. You also know that we always try to build Standard Operating Procedures in your business in a way that supports existing team members that have already worked on it, as well as team members that are fresh, that need more information.
Using the Toggle View
[00:01:48] Yvonne Heimann: So we've talked about the whole toggle view that we use here in ClickUp documents to make all of this happen. Now, with [00:02:00] knowing and looking at our Standard Operating Procedure and knowing what to do, now, if somebody has done that before or does it regularly, every week following this list is no problem whatsoever.
[00:02:11] Yvonne Heimann: They can just crank this job out. They might not even have to open it up. They literally just go by those top headlines and get the job done. Now, when you have an educated VA or something that knows specific tools, they come in here. They might already be able to do all of this, too, just by opening up the toggle view to know the specifics in your process.
Training somebody new
[00:02:35] Yvonne Heimann: Now, if you bring in somebody completely new, they might read a piece in here and be like, at transcript, two paragraph, timestamps? Wait, what, what, what, what?
[00:02:50] Yvonne Heimann: Or with our podcast prep, it's like there is a piece in here where we are talking about downloading. As you can see, we did have a [00:03:00] simple screenshot right in here that makes it easy. Which button is it? So once in a while, we do have screenshots in Standard Operating Procedures for your business. However, the process of logging into StreamYard. Where do I go? In which menu is it? How does somebody get to this screenshot right there? How does somebody get to the download your recordings piece? Anybody that has worked in StreamYard before knows how to get there. What if they've never worked in StreamYard? And that is what your Wiki is for.
[00:03:34] Yvonne Heimann: This is literally a Wiki about how to download your recordings from StreamYard. It's the how-to of this whole process of downloading a recording. Now these are tools specific based, and we really make them totally simple. We use Tango as a Chrome extension, that takes the screenshots. We just export it from there. We [00:04:00] clean it up a little bit, and that's it.
[00:04:02] Yvonne Heimann: With that, it links us straight to StreamYard right there to log in, click on the video, click on the video you want to download. It is a step-by-step guide, a wiki on how to download all of those things. Now that is the big idea of Standard Operating Procedures versus Wiki. Standard Operating Procedures in your business is the what needs to get done, whereas the Wiki supports your team on how specifically to get into StreamYard and download a video.
Learn more about Standard Operating Procedures vs Wikis
[00:04:36] Yvonne Heimann: Now, if you are really ready to dive deeper into all of this, to really systemize your business, I got a playlist for you right here where we have the whole collection of Wiki, SOP, what's the most important process? You need to start writing your Standard Operating Procedures for and all the things. It is perfect for anybody that is [00:05:00] starting to systemize their business, and I'll see you in the next video.
Ready to dive even deeper into ClickUp?
Make sure to subscribe on YouTube and stay in the know about the latest ClickUp features, efficient workflows, automated process, and much more..